---
R. Murphy Boston Corkscrews
---
In 1990, the late Bob Nugent published an article on R. Murphy of Boston and the corkscrews they produced. A while back, I was looking for more information on Murphy corkscrews, which lead me to contact the R. Murphy company--now in Ayer, Massachusetts. They explained that they had little information to give, but wanted to send me the history that a collector once wrote. Soon enough, a copy of the very article Bob Nugent penned was in my hand.
After a little deliberation, and a couple of conversations, I thought that it would a nice addition to vintagecorkscrews.com to include Bob's research on Murphy. I have included his text in its entirety below (page references remain, these images to which Bob refers, can be found below the article. If anyone has any more recent or other catalog references, please email me and I will add them here).
Please enjoy his information. By all corkscrew collector accounts, he was a legendary researcher! And, while I never had the opportunity to meet him, I believe that continuing to disseminate information regarding corkscrews is what he would have wanted.
In Bob's text, he mentions Murphy in Mansfield, MA. I recently came across another text about Mansfield's history that references the Murphys (John and Robert) and corkscrews, while there are many other pages that mention the Murphys, I have included two short exerpts that specifically mention corkscrews. These are from Jennie Copeland's 1936 text, Every Day But Sunday.
I will continue to add more information on R. Murphy as I uncover it. If you have any interesting additions to the Murphy story, please drop me a line.
Good Hunting!
Josef
---
ROBERT MURPHY
New England Corkscrew Maker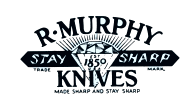 The Robert Murphy catalogs indicate that the company was established in 1850 and, indeed, the 1851 Boston City Directory lists John Murphy, cutler, at 17 Harvard Place. In 1854 his brother Robert joined him to form J & R Murphy. In 1862 the brothers moved to Mansfield, Massachussets, where John remained for the rest of his life. In 1877 Robert returned to Boston where he carried on his cutlery business. In "The History of Harvard" we read that "the Oregon Mill was sold in 1884 to Robert Murphy of boston who began preparations for the manufacture of cutlery here." The 1898 Boston City Directory does not list the firm but shows Robert Murphy as a resident which indicates to me that the plant had been moved to Harvard in 1897. Probably one or both of Robert's sons were working for him at this time. The Boston City Directory of 1900 states under Murphy, Robert was "removed to Harvard." The 1901 catalog shows the Harvard, Mass address, but the copy in the company's file has been overstamped to show "& Sons" added to Robert Murphy and "Ayer" over Harvard. The 1908 Catalog reflects these changes and also lists John R. Murphy and W. Edward Murphy above the company name. there is no metion of Robert so it can be preseumed he had retired. The town of Ayer is adjacent to Harvard and the move, made between 1901 and 1908, was a short one. It was also the last one as the company is still in business there.
During a visit to the factory in Ayer I talked with two long time office personnel, Mrs. Evelyn Smith and Mrs. Agnes Colt and learned that after John died his brother Edward ran the business and when the latte died his wife tried to keep the business going with the help of the roman but after about six months the business was sold to Mr. William Maxant, in 1954, but the Murphy name was kept as it still is today. The current owner is Mr. Douglas A. Bethke. I was given the opportunity to view two catalogs as well as an envelope containing a few screws, which have been kept safely in the office safe. Aside from the two ladies in the office only the foreman knew that the company made corkscrews.
PRODUCTS
In his book "New England Cutlery" Phil Paniewicz states that J & R Murphy made dental and surgical instruments while located in Boston but while in Mansfield they expanded their line to include oyster knives, shoe knives, cigarmakers' knives, corkscrews, cheese tryers, skates, pinking irons, and button hole cutters. These products and many more are included in the 1901 and 1908 catalogs as well as in a catalog of Dame, Stoddard, and Kendall, sole agents for R. Murphy of Havard. Currently the firm makes industrial hand knives. The cover of the 1901 catalog lists paper Hangers' / Oyster and /Shoe Knives in 18 point capital letters followed by Corkscrews in 28-point caps. The 1908 catalog lists the products inside with corkscrews last of 27 items. There are 5 corkscrews shown on two pages in 1908 and 21 on 8 pages in 1901. Obviously the invention of the Crown Cap in 1892 had reduced the demand for corkscrews.
CORKSCREWS
When Murphy first made corkscrews is anybody's guess, but they were being made between 1862 and 1877 in Mansfield. Probably they were made earlier in Boston possibly as early as 1850. The Crown Cap, patent in 1892, reduced the demand for corkscrews in this country. John Murphy's combination corkscrew and bottle opener was an attempt to stimulate the declining sales but didn't help much.
The earliest examples I have seen of Murphy corkscrews are very attractive with turned shafts and very nice turned acorn end handles (see page 6) or tapered shafts with assorted handles. The top part of the shaft are squared and tapered to fit in matching holes though the handles. Most are secured by peening the end over a copper or brass washer but an ivory handled one I have has an imbedded round nut on a threaded shaft.
As we all know wooden handles tend to dry out and shrink allowing just a little play between the handle and the shaft. The play increases as the corkscrew is used and it finally becomes useless. To over come this problem Murphy adopted Walker's method of securing the shaft to the handle with a finishing nail lengthwise through the handle. This was used as a selling point in their catalogs (see page 8). Two standard handles were developed for this process, a simple tapered end on in cherry and a rosewood model with swell center and ends. Straight and curved stag handles also were offered but these were pinned the short way because of the weakness of the center of the horn. All came with round or flat screws and were made in several sizes. All had straight round shafts.
While changing over from the early style with the shaft through the handle to the long pin method some transitional pieces were produced. One of these is the acorn handle with the long pin. Another is the newer shape with the shaft through it.
Beside the simple corkscrews Murphy also made one with a very distinctive button and one with a not so distinctive bell. The button has a collar on top which is pinned to the shaft. The bottom has eight teeth to grip the cork. The bell looks a lot like some Williamsons with the flat bottom surface. It is usually held from pushing upward by a cotter pin. These also had a choice of four handles and two screws.
John Murphy's patent of April 23, 1901 added another tool to the button and bell models. By adding a short spur on the top of the button and on the upper rim of the neckring of the open bell, crown caps could be lifted and wires cut.
Normally one thinks of T-handled corkscrews when thinking of Murphy but they also made both a Challenge and a Victor. An extremely rare example uses the frame of the Challenge and Victor with a T-handled corkscrew.
Dame Stoddard & Kendall was a firm in Boston which had sole distribution rights for Murphy products. In their circa 1900 catalog they show some corkscrews not shown in Murphy's catalogs, including some with wire cutters on the handle. They also show a slightly different rosewood handle. No corkscrews with bells are pictured. All are simple except those on the two pages reproduced on page 17 and 18.
MARKINGS
All Murphy corkscrews are marked on the metal, never on the handle. The earliest ones were stamped MURPHY but later on R. MURPHY/BOSTON was used. Often the stamping is poor and it is difficult to read both lines. Markings are usually about an inch below the handle and not necessarily visible when the corkscrew is laid flat.
The patented models made in Harvard after the patent was issued are stamped on the bottom of the bell and the top of the button R. MURPHY, HARVARD, MASS./PAT. APRIL 23, 1901. Later ones made in Ayer are marked on the shaft PAT. APR. 23, 1901, R. MURPHY.
The Challenge and the Victor models are usually marked R. MURPHY BOSTON across the top of the open frame which is usually arched. On example has square cut openings and is marked ROBERT MURPHY. It is probably an early example.
Although the Murphy firm was in Mansfield from 1862 to 1877 and later in Harvard and Ayer, except for a few patented examples I have never seen any location other than Boston on his corkscrews and only the earliest ones and the patented ones made in Ayer omit the city. On the other hand, the answer is that Murphy, using Dame Stoddard & Kendall of Boston as their sole agents, marked Boston on their products as long as their contract lasted. If corkscrew production ceased prior to the termination of their contract there would be no corkscrews marked Ayer. This does not explain the Harvard markings. Do you have a Murphy corkscrew marked Ayer or Mansfield?
Following are catalog pages from the Russell & Erwin 1882, Murphy, 1901 and 1908, and circa 1900 Dame Stoddard & Kendall, as well as John Murphy's 1901 patent. Page 12 of the 1901 catalog has been omitted as it is identical to page 13 except for flat worms instead of round. Page 17 is omitted because the original is marked up. It shows stag handled corkscrews like those on page 18 but with bells and buttons. Pages 67 and 68 are omitted from the DS&K catalog as they are the same as 66 an 69 except for the worms.
Bob Nugent
July 1990.
Catalog images from Nugent's article.
---
from Jennie F. Copeland's 1936 text, Every Day But Sunday:

"Before the Murphys came to Our Town they had been making dental and surgical instruments in Boston since 1848. Here they continued along the same line for a time. Soon they added a great variety of find cutlery, oyster knives, shoe knives, paperhanger's knives, cigarmaker's knives, pruning shears, buttonhole cutters, tabacco shears, pinking irons, butter tryers, can openers, cork screws, cigar box openers and skates (Copeland, 1936, p. 107).

Undaunted, Simon Card launched out in the basement of Murphy's cutlery shop. He had neither milling machine or lathe, but John Murphy let him use the machines in his shop. In fact, Mr. Murphy, who among other things was getting out cork-screws, gave Mr. Card some points on getting the spiral. There were times when John's brother, Robert, considered Card a nuisance, as he got in the way using their machines (Copeland, 1936, 114).
---
Murphy Corkscrews
Murphy - Patented bell assist,

marked underneath the bell

, R. MURPHY, HARVARD, MASS. PAT. APRIL 23, 1901, and on the shaft R. MURPHY BOSTON, PAT. APL'D FOR. The patent applied for mark, isn't mentioned in Nugent's article

Murphy - Stag Handled Patented bell assist, marked underneath the bell, R. MURPHY, HARVARD, MASS. PAT. APRIL 23, 1901 - but, no markings on the shaft.

Murphy - Patented bell assist, marked underneath the bell, R. MURPHY, HARVARD, MASS. PAT. APRIL 23, 1901, and on the shaft R. MURPHY BOSTON, PAT. APL'D FOR. The patent applied for mark, isn't mentioned in Nugent's article.

Murphy - Victor, marked R. MURPHY BOSTON

Murphy - Victor, marked R. MURPHY BOSTON with wire worm

Murphy - Challenge, marked R. MURPHY BOSTON.

Rare Murphy - T-handle with the Victor/Challenge Frame, marked R. Murphy Boston.

Murphy -with Ivory handle, marked R. MURPHY BOSTON

Nugent (1990) explains "the earliest ones were stamped MURPHY."

Murphy with serrated button, and the patented hook. Marked on the top of the button R. MURPHY, HARVARD, MASS. PAT. APRIL 23, 1901
Murphy - with serrated button, marked R. MURPHY BOSTON - Stag Handle
Murphy - with serrated button, marked R. MURPHY BOSTON.
Murphy - with serrated button, marked R. MURPHY BOSTON
blade
acorn
acorn
acorn/wire

A few Murphy direct pull corkscrews, marked R. MURPHY BOSTON or MURPHY
If you have a "R. Murphy Boston" corkscrew with which you would like to part, I will gladly buy it (or trade for it).
---